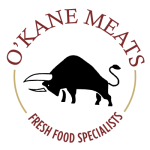 Based in the heart of the Claudy community, producing the BEST quality and variety of meat to our customers with the HIGHEST standards of hygiene and service
DEDICATED TRADITIONAL BUTCHERS SINCE 1989
Since beginning trading in 1989, we have dedicated our business to the preservation of the traditional skills and expertise of the butchery trade with the aim of providing a superior product to our customers.
As founding members of the Elite Butchers Association of Northern Ireland, we pride ourselves on our commitment to our customers and staff alike.
Putting up our quality, instead of our prices.
MEET THE TEAM
Read more about the award winning team here at O'Kane Meats
AWARDS
O'Kane Meats is an award winning Butchers, view latest awards here
SHOP ONLINE
O'Kane Meats has on online shop, you can order online here